When my husband got lucky with getting a garden leave between two jobs, I suggested to him that he escaped to nowhere and go to some hotels lost in nature. To me, there was no problem with figuring out what to do with your garden leave, it would of course be the perfect opportunity to have some time to yourself in a beautiful place.
The brief he gave me was: a remote place, still with luxury, ideally with a pool, with some great walks and or a connection to nature.
So here are suggestions of places that we either have been to already or that I thought would fit the bill perfectly.
France
Domaine de Murtoli, Corsica
An amazing place situated on the Murtoli estate in Corsica where we've been a couple of times. You sleep in a variety of former shepherds houses that have been restored and have all the comfort you wish. Outside it's the nature, wild and desertic but you always have a nice heated pool, sometimes dug in the rocks. The best part is the beach, which has a great restaurant with feet in the sand in the summer months. Read my full review.
Pella Roca, near Toulouse
This spa cabin estate is spread over more than 9 hectares of truffle oaks, meadow and woodland not far from Toulouse. Nestled in the high grounds each cabin features a private jacuzzi and sauna, overlooking the valley below. There is a beautiful pool (heated during high season), a kids playground, electric mountain bikes to rent and more and of course no WIFI, no TV.
Italy
Miramonti Boutique hotel, South Tyrol, Italy
A boutique hotel in the mountains above Merano in Northern Italy with a pool that has such a fab view! The rooms are centered around 5 bold themes for guests to choose from, and all enjoy fantastic views. There are 3 restaurants, a bar and terrace at the hotel. Guests can relax in the hotel's two outdoor pools and spa.
La Bandita, Tuscany
I spotted La Bandita a few years ago and it still remains one of my favourite places to check out in Tuscany. A luxury villa of contemporary design, located inside a nature reserve near Tuscany, the four acre property has lovely dining areas, an infinity pool overlooking the valley and spacious guest rooms with sweeping views, modern furnishings, and luxurious linens.
Il Sereno, Lake Como
Ok, not in the middle of nowhere but out of season it probably gives you that sense of escapism that we are talking about in this article. Situated on the banks of Lake Como, the property features a private beach, as well as a dock, allowing guests to arrive via one of the hotel's boats, custom-built by Ernesto Riva. The 60-foot-long freshwater infinity pool is suspended over the lake and the large sundeck is perfect for spending a leisurely afternoon under the Italian sun.
Eremito, Umbria
Now this is really a retreat! Set in a remote forested valley deep in the heart of Umbria, this spiritual health retreat was built to feel like an ancient monastery. Rooms – or celluzzes – capture the silence and simplicity of a monastic cell without sacrificing the modern comforts of air-conditioning-free coolness in summer and wood fired under-floor heating in winter. The evening meal is taken by candlelight, communally, in silence, fostering a mood of contemplation and community. Total isolation, no wifi, no telephone, no television but a heated pool.
Ireland
FinnLough, Ireland
FinnLough provides a unique experience of being able to sleep in a Bubble Dome underneath the stars, tucked away in the private forest with uninterrupted views. A selection of suites with roll top baths and sitting areas or one and three bedroom villas provide a variety of accommodation. FinnLough has a spa on the grounds including a Finnish sauna, plunge lake, float room and hot tub.
Portugal
Six Senses Douro
Unfortunately you can't go to the wonderful Douro hotel by Thierry Tessier that we had experienced a few years back. I have fond memory of driving down to the valley and feeling like the only ones there. Six Senses Douro however will certainly give a sense of luxury. It features bedrooms with panoramic Douro valley views, spacious suites with floor-to-ceiling windows, private balconies and wooden bridges leading to secret gardens. Take a dip in the indoor pool with floor-to-ceiling garden views, sink deeper into relaxation with underwater sound therapy and massage jets, or go for full restoration in the vitality pool. There are also 4 bars/restaurants and a Wine library.
Scandinavia – 3 hotels lost in nature
Ion hotel, Iceland
Less than an hour's drive from the hustle and bustle of Reykjavík and set against a backdrop of majestic mountainous lava fields, this hotel is sure to make you feel disconnected. The Silfra Restaurant, award-winning Northern Lights bar, the awesome Lava Spa and the magnificent landscape that stretches out to the horizon wherever you look provide calm and good service so you can recharge, reflect and rejoice.
Juvet Hotel, Norway
Juvet Landscape Hotel is located in a remote village in Norway. The landscape rooms are cubes on stilts, with glass walls while the birdhouses are gently placed on the steep slopes above the other landscape rooms. The Bath House at Juvet is a tranquil and refreshing spa built into the land by the river, with a hot tub and steam sauna.
Treehotel, Sweden
From the Treethotel you can gaze out at Sweden's spectacular nature from the separate, unique and secluded rooms in the trees. They are suspended 4-10 metres above the ground and are accessible by ramp, bridge, or electric stairs. Breakfast, lunch and dinner are served in the Treehotel Guesthouse restaurant. Lots of activities on offer including hiking, fishing and even a Moose safari! There is a spa onsite with a jacuzzi and steam room.
UK
The Gilpin, Lake District
The Lake district is an obvious choice for long walks. My husband actually ended choosing that for his garden leave escape. The Gilpin Hotel has rooms with lakeland views, garden suites with private hot tubs, and spa lodges featuring an ensuite spa. The hotel has two restaurants on site, both highly acclaimed and one with a Michelin star. There is a spa which overlooks a private lake, a champagne bar and you can also use a nearby health club which has a swimming pool.
Linthwaite House, Lake District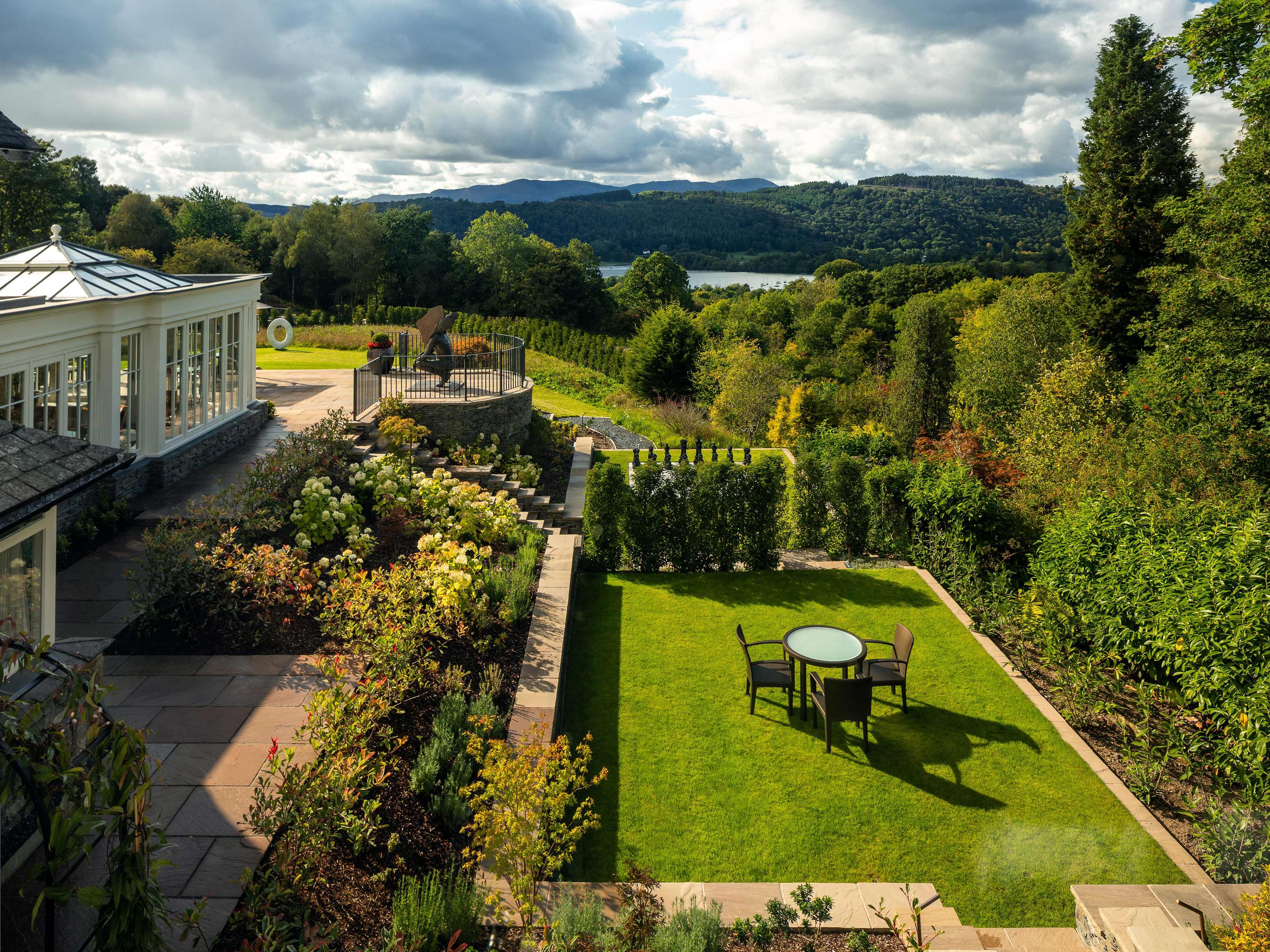 Linthwaite House Hotel is situated overlooking Windermere, offering stylish and individually styled rooms. Guests can choose from a selection of rooms and suites, some of which feature a private hot tub. The hotel is also home to Simon Rogan's Michelin plate restaurant, Henrock. There is a private lake with row boats for guests to use.
Killiehuntly, Scotland
This is one of our favourite places in Scotland, along with sister property Lundies House in the North Highlands. Built in 1850, Killiehuntly overlooks the Cairngorm mountains, and offers a scandinavian-style guesthouse and self catering cottage. Guests of the Farmhouse are given full use of the house, including an honesty bar. Breakfast is served every morning, and 5 nights a week a family-style meal is served for guests, included in the rate and it is just delicious! Outside lots of wild walks await you and you can also have a tour around the estate with one of the rangers.
… and if you can go far away to Canada
Fogo Island Inn
Fogo Island Inn sits on an island, off an island, with the guest rooms and suites having dramatic floor-to-ceiling windows that open onto the wildest and most powerful ocean on the planet. Food is prepared from ingredients grown, fished or foraged at the Inn. The Inn's Outdoor Guides will help you navigate the Island, and extra services such as bike hire and pottery classes to whale watching and stargazing can be arranged. There are two rooftop saunas and hot tubs overlooking the sea.