50 new hotels with pools or villas! That's how many I shared in the past few months with my newsletter subscribers!
The difference with the ones on the blog is their price and facilities as well as a bit more variety in the kind of places I select. Here on the blog is the "crème de la crème" but on the newsletter you can have a glamping address or a stylish hostel without a pool or a coup de coeur outside of Europe.
It's really a good use of your reading time – I would say that of course 😉 so do sign up below if you're not yet on the list.
Out of those 50 addresses, here are 20 hotels with pools.
New boutique hotels with pools in Spain
Finca Legado Ibiza
Check prices and availability*
About 20 minutes north of Ibiza Town, this white walls finca rises up in the middle of an exuberant garden of flowers and fruits. The owners have carefully chosen objects and furniture to form an original combination of contemporary design and rustic style. Under 16 not allowed. From 145 Euros in low season.
Casa Stellar holiday home, Ibiza
A really stylish rental home near Cala Vadella, on the west coast of Ibiza with an ideal relaxing bohemian-chic decor. It's a modern house on a hill with great views to the sea. The pool area is on a terrace and has a shallow end for children. 4800 euros a week in high season.
Hotel Basilica – Palma de Mallorca
Check latest prices and availability*
Hotel Basilica was born after the careful restoration of an 18th-century manor house located in the heart of the old town. The house still evokes its ancient aroma with its handmade floors in Mallorca, its original arches, its wooden beams and the solemnity of its high ceilings. From £180
Mendi Argia, San Sebastian
Check latest prices and availability*
A beautiful early 20th century villa transformed into a boutique hotel with pool on the slopes of Mount Ulia in San Sebastian, Spain. You get great views and you are still not far from the center 5 minutes by public transport. The boutique hotel offers seven different rooms and suites. some of the rooms have a bathtub, a japanese bath, or a terrace. San Sebastian of course is known for its many gastronomic restaurants. From 149 euros.
Es Raco d'Arta, Mallorca
Check prices and availability*
Es Racó is a rural hotel located on the outskirts of Artá, at a distance of 2.3Km from the centre. It is adjacent to the Llevant Mallorquin nature reserve, in an environment that has been kept as wild as possible to preserve its original essence. Its 220 hectares have 34 rooms, with a stunning design. There is a pool. From 400£ in mid-season.
Stylish hotels and villas with pools in Italy
Masseria Moroseta, Puglia
Check prices and availability*
You probably saw this one in many interior design magazines. Masseria Moroseta is a white stone farmhouse standing proudly on the ridge with views towards the sea. It's a charming bed & breakfast with six rooms in a 5 hectare organic olive grove near Ostuni, the white town of Puglia. They also now rent 5 private villas with the same sense of style.
Follonico, Tuscany
http://www.follonico.com/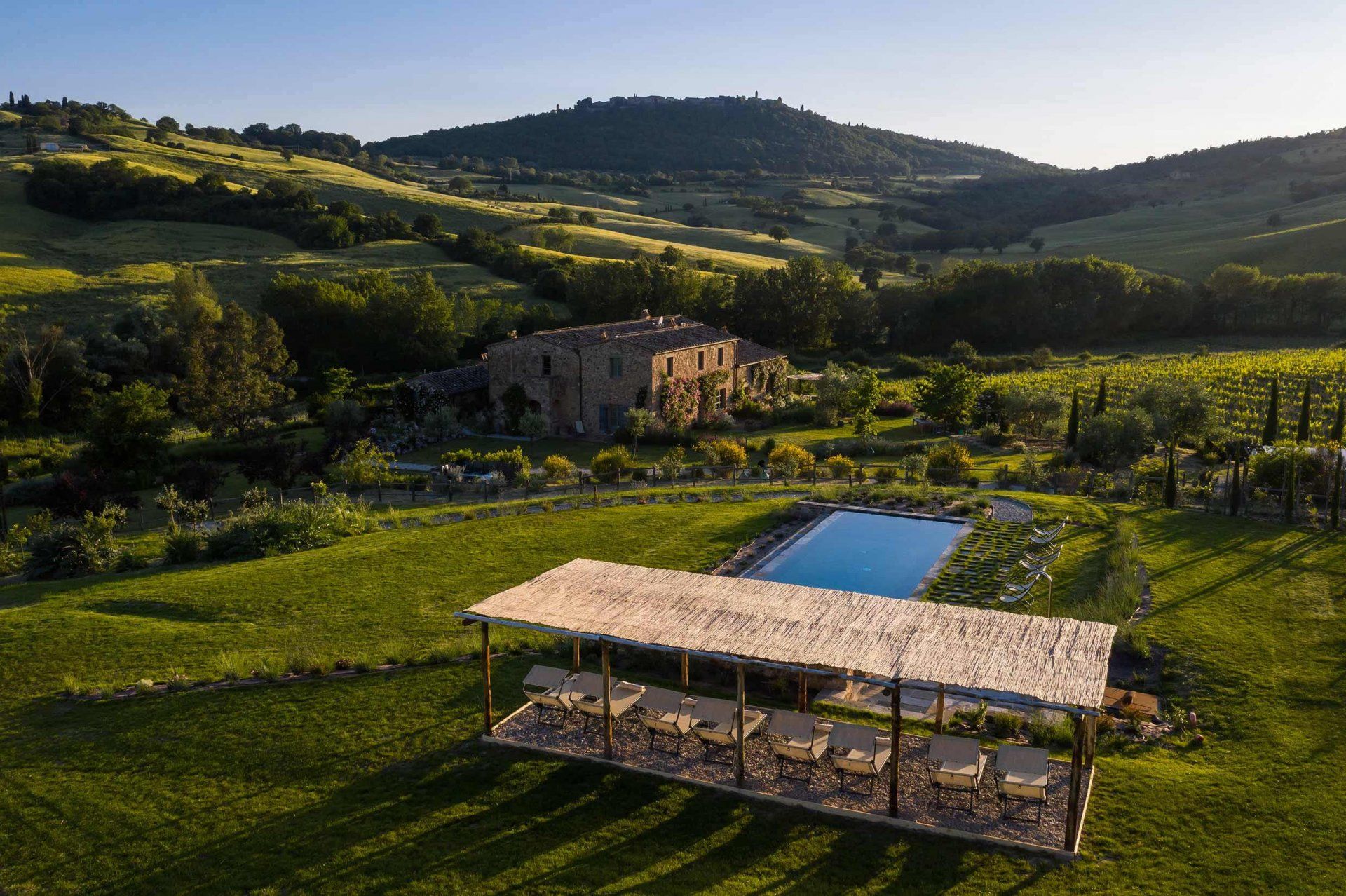 Not a 5 star hotel but a 5 star experience in a boutique hotel in southern Tuscany near Montepulciano. Six incredible rooms with breakfast to die for. The Tuscan farmhouse dates back to the ninth century, and is surrounded by typical Tuscan countryside. There is a salt-water infinity pool in the garden and the rooms have exposed ceiling beams and cool terra cotta tiled floors. From £200.
Inside Murlo, Umbria
The Murlo Estate is one of the most exclusive private country estates in Italy, owned by the same family for generations. You can stay in a room in the main house with a 18m pool, rent one of the apartments or for ultimate luxury, choose one of the seven independent villas, all beautifully restored with landscaped gardens and infinity pools overlooking breathtaking countryside. Deluxe rooms are from 120 Euros.
Umama, Tuscany
It's quite a fantastic place but the website, while beautiful, is not that easy to click on so I linked in the name to the photo gallery. This old building in a village has undergone a restoration of about 7 years, bringing to light what was its original architecture. UMAMMA is spread over an area of 230 meters. with walls reaching a thickness of 150 cm. There is an indoor pool with hot water and shower of 35 meters 2! Quite a fantastic place. Have a look. From 500 Euros a day, 3 days minimum.
Le Mole sul Farfa
https://lemolesulfarfa.com/english
Discovered via the wonderful Brand Stylist who created their brand presence, this is a beautiful artisan retreat in the hills not far from Rome . where you can rest, recharge and reconnect. There is a family room, but you can also come on your own and get a single bedroom for just 80 Euros. The pool is accessible during the warmer months. From 120 Euros for a double bedroom.
New stylish hotels with pool in Greece
Hotel Aristide, Syros
Check prices and availability*
On the pretty and non-touristy Greek island of Syros in the Cyclades, the nine-suite Aristide is in a 19th Century mansion that mixes contemporary art, a garden cocktail bar, beach-side location and the chance to explore the historic nearby town of Hermoupolis. Some rooms also have private plunge pools. B&B from £163 a night.
Hotel Imaret, Kavala
A 19th-century school gracefully restored, this twenty-four accommodation hideaway, overlooks the port of Kavala. Rooms and suites lie beneath the graceful domes of the original construction, surrounding three thousand square meters of inner gardens and marble arcades and a beautiful outdoor pool. There are also classic treatments in the caved hammam.
White blossom, Paros
Check latest prices and availability*
White Blossom is a brand-new hotel situated in the heart of Parikia located away from the crowded spots of Parikia, yet near to every point of interest. It's 5 minutes from the beach and the town center. There are white minimal apartments and some family suites and a pool. From £90
Habitat Mykonos
Located just steps away from the village of Agios Stefanos, this bohemian-chic, all-suite hotel is the perfect hideaway for immersing yourself in the laid-back rhythm of Mykonian life. 17 suites. From £125
2 unusual escapes in France
Souki Lodges, France
In Occitanie, a new concept that will open in May but can already be booked. The owners built two fancy lodges with huge room and an even bigger terrace opening onto beautiful views. There is an infinity pool, spa treatments and catering options for a really romantic escape. Prices not visible on the site yet.
5 Lasserre, Dordogne
Check latest prices and availability*
Part Auberge, part family estate, 5 Lasserre is a ground-breaking luxury guest house and B&B only 10 minutes from Saint Emilion. This old renovated dwelling is unique in its combination of a classic late 18th century French farm house with contemporary architectural elements. There is a very nice infinity pool in the garden. The 5 suites are for adults only though so treat yourself to an indulgent weekend. From 180 Euros.
And more ideas in Portugal and Turkey
Alma da Comporta, Portugal
https://alma-da-comporta.com/
Just 1 hour from Lisbon, Alma da Comporta offers typical houses to rent located close to the beaches. The architecture of the houses follows the codes of the fishermen's huts of the region and the swimming pools overlook the rice fields of Comporta. There are several villas to choose from for 4 to 10 people and many have a pool. From 690 Euros per night.
Sultan Cave Suites – Cappadocia – Turkey
Check latest prices and availability*
Terraced above the village of Goreme, this beautiful cave hotel offers breathtaking views from the many stone terraces. In the early morning at sunrise, marvel at the sight of hot air balloons filling the sky. There's also a pool. 35 rooms from £68